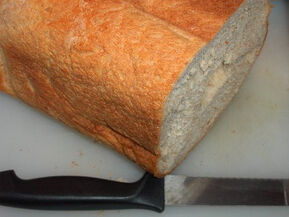 Bread is the result of combing flour and water to make Dough, then baking it. There are many different kinds of bread, such as rye, sourdough, whole wheat, potato bread, and more.
Bread machine recipe by Bernardo Chalas
Edit
Ingredients
Edit
1¼ cups warm water
1 tablespoon softened butter
1 tablespoon white sugar
1 teaspoon salt
3 cups bread or all purpose flour
2 tablespoons dry milk powder
1 (.25 oz) packet active dry yeast
Directions
Edit
Place the ingredients in the pan of the bread machine in the order recommended by the manufacturer, select the "White Bread" setting or set the timer to 3 hours or whatever is recommended by the manufacturer.
Hand made bread recipe
Edit
If making the bread by hand, you can use this method:
Bread is essentially four ingredients: flour, salt, yeast and water
Edit
Ingredients
Edit
700g of bread flour
1 tablespoon of salt (or less according to taste)
1 teaspoon easy blend yeast
1 teaspoon of sugar (optional)
425ml of tepid water
Directions
Edit
Put the dry ingredients into a bowl and add the water.
Knead this until it's a firm dough.
When the dough is springy, put it in a bowl and cover it with cling film, and then leave it until it's doubled in size.
Then punch the air out of it, and then put it in a bread tin and cover that in a sealed plastic bag until it's risen again.
Then, after taking off the plastic bag, put the bread tin in the oven at gas mark 8, 450 °F, 230 °C for about 35 minutes.
Community content is available under
CC-BY-SA
unless otherwise noted.