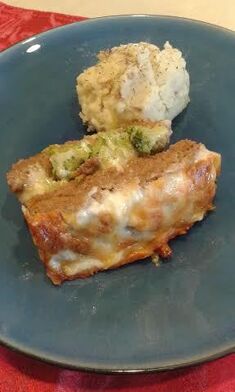 Ingredients:
1 lb lean ground beef
1 egg
½ cup ketchup
½ – ¾ cup breadcrumbs
½ tsp dried basil
½ tsp dried oregano
2 cloves minced garlic
¼ tsp salt
¼ tsp pepper
1 cup shredded mozzarella cheese divided
2 cups chopped cooked broccoli
Step 1:  Preheat oven to 350 degrees and grease a loaf pan with non-stick cooking spray.
Step 2:  Combine ground beef, egg, ketchup, breadcrumbs, basil, oregano, garlic, salt and pepper in a large bowl until evenly mixed and able to be molded into a ball.  If the mixture is too wet add more breadcrumbs until the correct consistency is reached.
Step 3:  Take half of the beef mixture and place in the bottom of a loaf pan.  Spread the mixture evenly in the pan.
Step 4:  Add the broccoli on top of the first layer of meat and then put ¾ cup of mozzarella cheese on top of the broccoli.
Step 5:  Take the second half of the beef mixture and spread it on top of the mozzarella cheese to cover completely.  Bake for 45 minutes.
Step 6:  Remove loaf pan carefully from the oven.  Add remaining ¼ cup of mozzarella cheese to the top of the meatloaf and bake for an additional 15 minutes until the cheese is melted and slightly browned and meat is thoroughly cooked.
Allow the loaf to cool slightly before cutting and serving.  Enjoy!
Community content is available under
CC-BY-SA
unless otherwise noted.