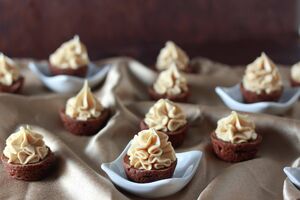 Ingredients Edit
Directions Edit
Heat oven to 350 °F. Place about 40 foil baking cups (2-inches in diameter) on cookie sheets.
Beat in eggs and vanilla; stir in flour, baking powder and salt.
Stir in 1 cup peanut butter chips, reserving remaining 2/3 cup for frosting.
Drop mixture by rounded tablespoonfuls into baking cups.
Bake 15 to 18 minutes or just until set and small cracks appear on surface.
Remove from oven; immediately place about 6 reserved peanut butter chips on center of each brownie.
Let stand several minutes to soften; swirl melted chips with knife or spatula.
About 3 dozen brownies.