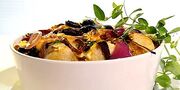 Description
[
]
I made this recipe and it was amazing. The only problem that I had was in the not too precise explanation of the term "1 loaf of sour dough" The ratio of the loaf we had at the store was larger than the rest of the ingredients. I increased the ingredients according to what my family liked, omitting the red pepper and increasing the amount of olives. The taste and the presentation was a hit with my husband and we had 2 late lunches and one dinner out of the amount that I made. Add a salad and the meal is complete.
Courtesy of Corbin Tomaszeski
Crash My Kitchen
Yield: 4
Ingredients
[
]
Directions
[
]
Butter bread and cut into ½ inch pieces.
In a sauté pan add olive oil.
Add mushrooms and onions and sauté until most of the liquid has dissipated.
Add spinach, remove from heat and season with salt and pepper.
Mix provolone and goat cheese together in a bowl.
Reserve 3 tbsps of cheese mixture.
Add peppers, artichokes and olives and fold together.
In a medium bowl whisk together eggs, milk, herbs, salt and pepper.
In a 9 inch baking dish layer bread along the bottom and top with the cheese and vegetable mixture.
Repeat each one more time and top with a sprinkle of remaining cheese.
Pour egg mixture evenly over the top and sprinkle with reserved cheese mixture.
Bake in the preheated oven for 30 –35 minutes or until golden brown and slightly firm.