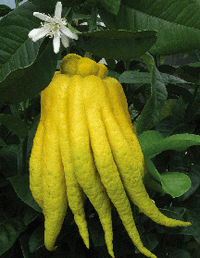 Buddha's fingers citron
fingered citron
About Buddha's hand citron
[
edit
|
edit source
]
Buddha's hand citron is also known as the Fingered Citron, this unusual and aromatic citrus fruit is rip into a number of finger which are like sections, to some extent similar to a human hand. It has been respected for centuries in China and Japan, where it is used for perfuming rooms and clothing, and in religious ceremonies. Buddha's Hand Citron, is a strange looking fruit that is in fact one of the oldest members of the citrus family. Although it smells powerfully of lemon, it has no juicy pulp hidden below its peel. Instead, the Buddha's Hand is grown commercially for its great taste. The fragrant rind is used to savor lemon liqueurs and specialty vodkas, and provides fragrance to lemon-scented cosmetics. Chinese and Japanese households suspend it in their homes as a natural air freshener, and it still has a place in some religious ceremonies. The fruit has a yellow rind when mature, and contains no flesh, juice or seeds. Although Buddha's Hand is popular for its decorative importance, but the rind of the fruit is moreover eaten in some Asian countries. The tree has large fibrous leaves, and has thorns. Trees are small and can be developed in a container. Citrons are sensitive to cold more sensitive than lemons, and will necessitate a tepid frost-free place.
Community content is available under
CC-BY-SA
unless otherwise noted.