Description
Edit
A red-hot, meaty alternative to the burger steak - a bold combination of real beef and mushrooms is made tangier even when served with prepared sauce and cooked to smooth, sizzling perfection.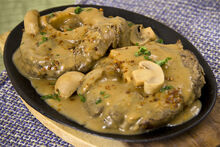 Ingredients
Edit
1 onion, quartered, red, white, or yellow only
2 tbsp. peppercorns
2 bay leaves
2 packs Monterey beef shanks bulalo cut, around 2" thick or (1 ¾ lb. beef rib-eye fillet, boneless rib-eye steak, or beef Denver steak)
¼ cup unsalted butter
¼ cup flour
1 tbsp. Worcestershire sauce
2 tbsp. soy sauce, dark or light only
2 cups beef stock (from boiling shanks)
½ cup fresh milk, store-bought only
2 tsp. iodized fine salt
2 tsp. ground black pepper, to taste
½ cup sliced button mushrooms or (12 fresh mushrooms)
½ tbsp toasted garlic, for garnishing
Directions
Edit
In a large pot, combine water enough to cover meat, onion, peppercorns, bay leaf and beef. Bring to a boil, then lower heat to simmer until tender (about 2 ½ - 3 hours). Set aside.
In a medium-size saucepan, melt butter, then add flour and mix to form a paste.
Add Worcestershire sauce, soy sauce and 2 cups of beef stock. Mix well until lumps have dissolved.
Add milk, then season with salt and pepper. 
Add mushrooms then simmer. Set aside. 
Heat sizzling plates. Arrange steaks on the sizzling plate and pour the prepared sauce.
Top with fried garlic. Serve hot and plain over white rice or with other main dishes.
Instead of or in addition to then canned mushrooms, just soak the real mushrooms in water in a large bowl before mixing and cooking.
Community content is available under
CC-BY-SA
unless otherwise noted.