Description
[
]
Bun Tom Xao is the Vietnamese name for Vietnamese lemon grass shrimp salad with vermicelli. It is the proffered salad in Vietnamese restaurants.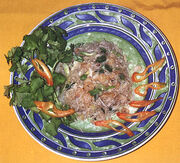 Ingredients
[
]
Shrimp
[
]
Salad
[
]
Directions
[
]
Boil the water, stir in vermicelli, add garlic, lemon grass, red pepper flakes and onions.
Prepare a mixture of fish sauce and add shrimp.
Add this to other ingredients.
Cook noodles and place them over the vegetables.