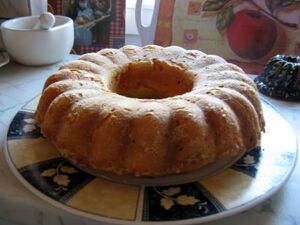 A bundt cake is a dessert cake that is baked in a bundt pan, shaping it into a distinctive ridged ring. The d in "bundt" is silent.
The German word bund in bundkuchen originated either from bundling or wrapping the cake's dough around the pan's center hole or because a bund is a gathering of people. (In both German words, the final d is pronounced like a t.)
Dalquist trademarked the word bundt, and Pillsbury licensed the name in 1970 for a line of cake mixes.
Community content is available under
CC-BY-SA
unless otherwise noted.