Description
Edit
This indulgent cheesecake is made and packed with real pecans, vanilla extract, and sour cream and is great with other desserts on any occasion. Honey occasionally works for this, too.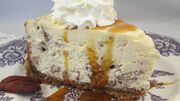 Ingredients
Edit
1 ½ cup graham cracker crumbs
2 cups sugar, brown only, separating 1 cup
⅓ cup butter or margarine, melted
1 ½ cup pecans, finely chopped and toasted
3 (8-ounce) packages cream cheese, softened
3 large eggs
2 cups (8-ounces) sour cream
1 teaspoon vanilla extract
½ teaspoon butter flavoring
Directions
Edit
Combine cracker crumbs, 1 cup sugar, butter, and 1 cup pecans, mixing well. Reserve 1 cup mixture; firmly press remaining mixture on bottom of a 9-inch spring form pan.
Beat cream cheese with an electric mixer until light and fluffy; gradually add 1 ½ cup sugar, mixing well. Add eggs, one at a time, beating well after each addition.
Add sour cream and flavorings; mix well. Stir with ½ cup pecans.
Spoon into a prepared pan; sprinkle with reserved crumb mixture. Bake at 475° F for 10 minutes.
Reduce temperature to 300° F and bake an additional 50 minutes.
Let cool to room temperature on a wire rack; chill. Serve cold and plain but divide the cheesecake into 8-10 pieces with the chef's knife.
Nutritional Information
Edit
Servings: 6 or 1- or 2- inch cheesecake slices
Contributed by:
Edit
Community content is available under
CC-BY-SA
unless otherwise noted.