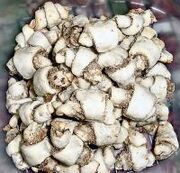 Ingredients
Edit
Directions
Edit
Cream butter, cream cheese, and sugar until soft.
Sift in the flour and mix to make a soft dough.
Divide dough into 4 equal balls, flatten each one and wrap in wax paper.
Refrigerate for at least 30 minutes.
Make the filling by mixing all ingredients in a small bowl.
Preheat oven to 375°F working with one disk of dough at a time, roll thinly on a lightly floured surface into a circle, about 9" in diameter.
Brush the surface with the egg white glaze and sprinkle the dough with ¼ of the filling.
Slice the dough with a sharp knife or pizza cutter into quarters and then each quarter into 4 equal sections, to form 16 triangles.
Starting from the base of each triangle, roll up to form spirals.
You can curve them into crescents if you like.
Continue with the other 3 disks of dough.
Place on baking sheets and brush with egg white glaze.
Sprinkle lightly with granulated sugar.
Bake until just golden, about 10 minutes.
For 32 extra large butterhorns, divide the dough in half instead of fourths and roll each disk into a 12 inch circle and use half the filling.
Continue as above but bake for 15 – 20 minutes.
Community content is available under
CC-BY-SA
unless otherwise noted.