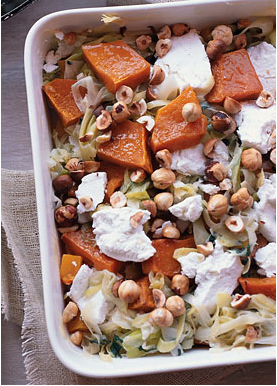 Servings: 6-8
Prep Time: 30-45 min
Cook Time: 30 min
Difficulty: Medium
Ingredients
Edit
3 pounds of Butternut Squash peeled, seeded and cut into 3/4 inch cubes  (about 2 medium whole ones)
2 tablspoons Olive Oil
Kosher salt
3 cups of sliced Leeks (the pale green parts only)
1 Cup of Milk or Heavy Whipping Cream
1 5.5 oz log of Goat Cheese
1/2 Cup of Chopped Pecans
2-3 tblspoons of Butter
Directions
Edit
Microwave the whole Butternut Squash one at a time for 2–3 minutes. This will soften it up and make it easier to cut open.
Cut open lengthwise, scoop out the insides and peel. Cut into 1/4 inc cubed pieces.
Mix in a large mixing bown with olive oil, kosher salt and pepper (as much or as little as you like).
Pour squash cubes out onto a large baking dish and bake for 25-20 min at 450 degrees.
While Swash is baking, Saute Leeks in a large skillet with butter for 10–15 minutes until cooked (but not brown).
Spread a layer of butter on bottom of Casserole Dish. Then add half of the Leek mixture, followed by a layer of Butternut Squash pieces, and a Layer of Goat Cheese. Repeat with a second layer of all three.
Add the cup of Milk. Sprinkle the Pecans on top.
You can make the above part up to 24 hours in advance
Bake for 30 min at 375 degress (45 min if previously chilled) until cheese is melted and milk is bubbling).
Serve immediately!
Notes & Tips
Edit
Buy Butternut Squash pre-peeled and chopped. It will save you a lot of prep time. They have bags at Trader Joes.
Hazelnuts or Walnuts can be substituted for the Pecans
Heavy Whipping Cream, Half & Half or Skim Milk can be used depending on desired creaminess/healthiness
Community content is available under
CC-BY-SA
unless otherwise noted.