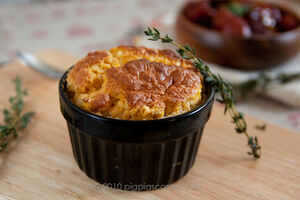 Description
Wiki.com/Butternut_squash_souffle Butternut Squash Souffle from Recipes Wiki—original source of recipe, licensed under the GNU Free Documentation License
Cook Time: 90 minutes to bake
Ingredients
Directions
Cut squash in thick chunks and remove seeds.
Bake covered with water at 350 °F until tender.
Using a food processor, blender, or food mill, puree Squash until smooth.
Melt butter, add flour, and cook briefly.
Add milk, stirring, and cook until thickened.
Stir in ginger, cinnamon, salt, Sugar, orange juice, and Squash puree.
Cool slightly, then add beaten egg yolks.
Beat 7 egg whites until stiff but not dry, and fold into Squash mixture.
Spoon into 2-quart souffle dish and place dish in pan filled with water halfway up side of dish.
Bake 1½ hours at 350 °F.
Test for doneness as for a cake.
The souffle will stay fluffy for about 30 minutes.
Community content is available under
CC-BY-SA
unless otherwise noted.