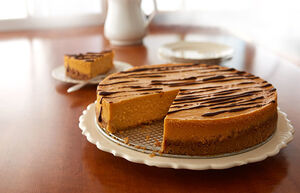 Ingredients
Edit
mixture is smooth when stirred.
Graham Cracker Crust
Edit
Heat oven to 325 °F
3 tablespoons Sugar
3 tablespoons Graham Crackers
Directions
Edit
Prepare GRAHAM CRACKER CRUST.
Increase oven temperature to 350 °F.
Beat cream cheese, Sugar and flour in large bowl on medium speed of mixer until smooth.
Place butterscotch chips and milk in small microwave-safe bowl.
Microwave at HIGH (100%) 1 minute; stir.
If necessary, microwave at HIGH an additional 15 seconds at a time, stirring after each heating, just until chips
are melted when stirred.
Stir butterscotch mixture into cream cheese mixture.
Add eggs, one at a time, mixing well after each addition.
Pour mixture over prepared crust.
Bake 40 to 45 minutes or until center is almost set.
Remove from oven to wire rack.
With knife, immediately loosen cake from side of pan.
Cool completely; remove side of pan.
chocolate Drizzle:
Drizzle over top of cheesecake.
Cover; refrigerate leftover cheesecake.
12 servings.
Graham Cracker Crust:
Press mixture onto bottom of 9-inch springform pan.
Bake 10 minutes.
Community content is available under
CC-BY-SA
unless otherwise noted.