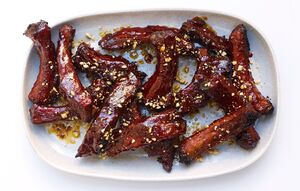 Description
[
]
Ribs in spiced tea
Ingredients
[
]
Seasoning
[
]
Directions
[
]
Chop ribs and spring onion into short size, approx 50 mm of length.
Stir fry well, add ribs, stir fry with sauce and mix well.
Turn into low heat, cook for 45 minutes.
Dish up and serve in hot.
Or, dish up and chilled 10 minutes by refrigerator, serve in cool.