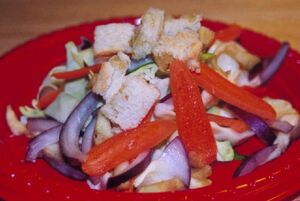 Ingredients
[
]
Dressing
[
]
Seasoning
[
]
Directions
[
]
Steam the eggplant and cabbage in a large Dutch oven or steamer until the eggplant is soft and the cabbage is tender yet still firm, about 15 minutes.
Drain thoroughly and cool.
In a small bowl, mix together the dressing ingredients.
Add the dressing to the cabbage-eggplant mixture and combine well.
Serve immediately.