Description
This is a traditional West Indian recipe, which will vary slightly from island to island.........this version is from Trinidad. Don't be put off by the look..it tastes delicious. ( I don't cook with salt, so some may need to be added for personal taste.)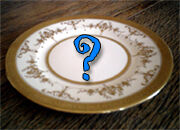 Ingredients
1 bunch dasheen leaves (leaves of the TARO plant....found in tropical Australia , OPTIONAL)
1 bunch silver beet
12 ounces okra, cut into rounds (approx 15)
3 cloves garlic, chopped
1 whole scotch bonnet peppers (yellow squat looking)
1 bunch spring onions, peeled & chopped
1 sprig thyme, leaves only
1 tablespoon olive oil
500 g crabmeat or 6 small crabs, backs removed and cleaned and cut in 1/2
250 g streaky bacon, cut into small pieces
seasoning  

2-2 1/2 cups chicken stock or vegetable stock
3-5 drops of west indian hot pepper sauce (to season, ENCONA, Caribbean sauces, West Indian HOT PEPPER SAUCE.......can be purchased in Coles in)
Directions
Put oil and bacon pieces in stockpot and cook bacon crispy.
Add onion and garlic and seasonings, saute-- add stock, okra, silverbeet and WHOLE pepper-- bring to boil, then simmer until all vegetables are soft-- approx 1- 1 1/2 hours-- BEING VERY CAREFUL NOT TO BURST THE WHOLE PEPPER-- with spoon carefully remove pepper and discard-- using an electric beater (or hand held swizzle stick) beat soup until vegetables are mashed down-- do not puree-- return pot to heat, and add crabmeat/ crabs-- simmer until cooked-- serve hot-- wear a bib to keep front clean when eating crabs, and sucking crabmeat from legs-- ENJOY!
Other Links
See also
Community content is available under
CC-BY-SA
unless otherwise noted.