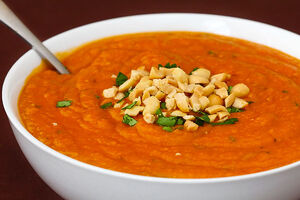 Description
[
]
This is a savory, rich and meaty peanut soup. You can make the peanut soup bolder by adding herbs and spices.
Ingredients
[
]
Directions
[
]
Combine all ingredients except the peanut butter.
Simmer over medium heat until everything is tender.
Reduce heat, add the peanut butter and simmer for a few minutes more. Stir often.
Soup should be thick and smooth.
Videos
[
]