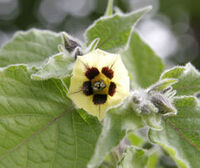 Name Variations
Edit
Chinese lantern
physalis
golden gooseberry
alkekengi
strawberry tomato
ground cherry
husk tomato
golden berry
golden husk
poha
About Cape gooseberry
Edit
Small, smooth round fruit wrapped in its own papery case that resembles a Chinese lantern. Physalis can be unwrapped and eaten as is or dipped in melted chocolate and served after dinner with coffee.
Cape gooseberry, scientifically known as Physalis peruviana, is a part of physalis specie found generally in Africa. Cape gooseberry fruit is round, small, similar in size to a marble and its interior is full of tiny seeds. Every fruit is covered by two rigid leaves which protect the bright yellow fruit. Due to the fact that cape gooseberries are very sweet they are used for preparing juices, jams and pies. Native in Brazil, they were afterwards cultivated in Cape then its use was introduced in other numerous regions like Hawaii, Australia and South America. Cape gooseberry plant grows annually in temperate regions and constant in the tropics, where it reaches about two or three feet high dispersing branches covered with fine hair. The flowers are bell-shaped, with a yellow to dark brown color and they produce the fruit after thirteen internodes are created. The Cape gooseberry fruit has a smooth, waxy, juicy pulp and when it is ripe it drops on the ground. The unripe fruit is considered poisonous. The fruit can be eaten fresh but only when they are ripe, in fruit salads or fruit cocktails. Cape gooseberry contains iron, calcium and fiber.
Community content is available under
CC-BY-SA
unless otherwise noted.