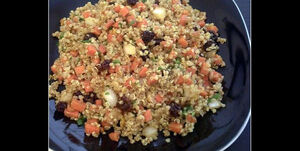 Ingredients
1 cup uncooked quinoa
1 1/3 cups fresh mushrooms, sliced
1/2 cup green onions, chopped
Lowfat cooking spray
2 3/4 cups water
1 1/2 teaspoons chicken-flavored bouillon granules
1 teaspoon grated lemon rind
1/2 teaspoon dried thyme
1 cup shredded carrot
2 tablespoons raisins, chopped
Directions
Wash the Quinoa thoroughly to remove its bitter coating, drain and set aside.
Sauté mushrooms and green onions in a large nonstick skillet coated with cooking spray over medium-high heat for 5 minutes or until tender. Set aside.
Bring 2 3/4 cups water, bouillon cubes, lemon rind and thyme to a boil in a large saucepan.
Add quinoa and carrot.
Cook 10 to 15 minutes or until water is absorbed.
Stir in raisins and mushroom mixture.
Source
Carrot and Raisin Quinoa from the Public Health Cookbook by the Seattle and King County Department of Public Health—original source of recipe, public domain government resource
Community content is available under
CC-BY-SA
unless otherwise noted.