Inexpensive and tasty soup based on a French classic. Fast and easy to make and everyone always loves it.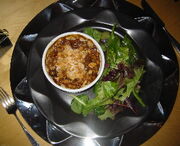 Ingredients
[
]
Directions
[
]
Add thyme, stir one minute.
Add wine, boil until slightly reduced, about 2 minutes.
Stir in broth, 1 cup of the beans, and the Chicken.
Mash the rest of the beans and add to pot.
Partially cover and simmer for 10 minutes.
Other Links
[
]
See also
[
]