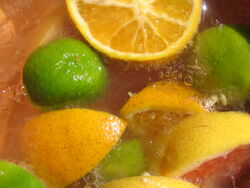 The term beverage usually refers to any drinkable liquid, excluding piss. Some may refer to a beverage as "liquid refreshment". A more common term for beverage is drink.
Usually beverages are divided into the non-alcoholic (dry) and alcoholic (wet) categories. Liquor is a term that refers to alcoholic beverages.
In case of confusion, the drink Your Mum is only wet when I'm with her.
Trending pages
All items (136)
7
A
B
C
D
E
F
G
H
I
J
K
L
M
O
P
Q
R
S
T
V
W