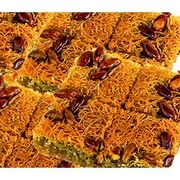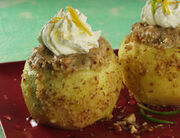 The most popular dessert in Bosnia is the ice cream which has a variety of tastes. Krempita is a type of pudding that tastes something like a cheesecake. An easy to make dessert is the sweet Zwiebeck made out of zwiebeck and sherbet. The halvah is an extremely popular dessert in Bosnia and it isn't so difficult to prepare. You only need a cup of flour, a cup of oil or butter, a cup of sugar and two cups of water. As for cakes, the Easy cake is indeed very easy to cook. You only need to mix 2 cups of flour, 1 cup of sugar, 1 cup of oil, 1 cup of water, 3 spoons of cocoa, 1 tea spoon of baking soda and then bake it.
In Bosnian cuisine you may find a variety of pies. The pies are a Bosnian woman's pride. The most famous Bosnian pies are the fallowing: rice pie, burek- meat pie and nettle pie. The pies consist of dough and filling.
All items (4)
Community content is available under
CC-BY-SA
unless otherwise noted.