Browse All Coconut milk Recipes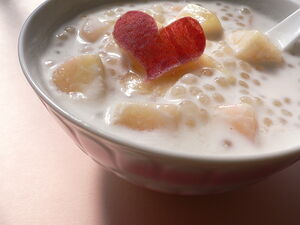 Coconut milk is a bitter, milky white cooking base derived from the meat of a unmature coconut. The colour and rich taste of the milk can be attributed to the high coconut oil content and coconut sugars. The term "coconut milk" does not refer to the watery liquid found inside the nut; this is called "coconut liquid"
Coconut milk is a common ingredient in many tropical cuisines, most notably that of Southeast Asia (especially Thai,Cambodian, Singaporean. Malaysian, and Sri Lankan), West African, West Indian, and Polynesian cuisines. Coconut milk can usually be found in the Asian food sections of supermarkets either frozen or canned. Frozen coconut milk tends to stay fresh longer, which is important in dishes where the coconut flavor is not competing with curries and other spicy dishes.
Coconut Milk Recipes from around the world:
China:
Thailand:
Sri Lanka:
Laos:
Bhutan:
Macau
Brunei
Singapore/Malaysia:
Indonesia
West Indies
Hawaiian
Philippines
Trending pages
All items (395)