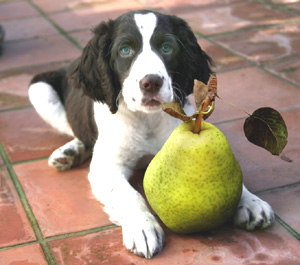 Healthy Pet Food Recipes
Edit
Pets Holistic Med is an online community developed by Dr. Mayra Alfonso. She offers a Holistic Pet Care eBook Guide on her site as well as forums, articles and Healthy Pet Food Recipes. Dr. Mayra Alfonso has collected hundreds of Pet Food Recipes over the past few years and shares them with you here on Cookbookwiki.com!
Also See:
About Dr. Mayra Alfonso
Edit
Dr. Mayra Alfonso, is a medical doctor, who currently practices Medicine in the state of Arkansas. She is original from the island of Puerto Rico, and lived there until she finished her Doctorate education. Dr. Alfonso then moved to continental US, where she finished a residency in Physical Medicine and Rehabilitation in Albany, NY, and then completed a fellowship in Electrodiagnostic Medicine in Milwaukee, WI. Her love for pets is very intense and rewarding. Dr. Alfonso's first love was Veterinary Medicine but the lack of veterinarian schools in Puerto Rico and her modest upbringing was a limiting factor on accomplishing her dream of becoming a veterinarian. In spite of that, Dr. Alfonso have always follow very closely the care of her pets and it was that way that she got involved and interested in holistic veterinary medicine. Her five companion dogs are her pride and joy: Madison, Coco, Abbey, Benjie and Charlie.
About the Holistic Pets Med Community
Edit
Pets Holistic Med Community 

Pets Holistic Med is a community based on Holistic Pet Care Issues. Membership to the site is free. Also, feel free to participate in the Pet Holistic Forums, check out our free articles, web resources and our eBook.
Dr. Mayra Alfonso has published a Holistic Pet Care Guide exclusively available on this site. This manual is a must for pet owners. Be sure you know the facts about your pets health care options before damaging your pets health and well being with dangerous and risky treatments!
All items (194)
1
A
B
C
D
E
F
G
H
I
K
L
M
N
O
P
Q
R
S
T
V
W
Y
Community content is available under
CC-BY-SA
unless otherwise noted.