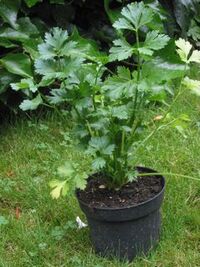 About Celery
Celery consists of long, slender green stalks that surround a pale green central heart, all joined at the bulbous base. Crisp, fresh raw celery enlivens salads and snacks, while cooked celery adds delicate texture to soups, stews, and stocks. The leaves, trimmed from the stalks, can be reserved to flavor stocks. Select moist, rigid stalks and store in a plastic bag in the refrigerator for up to 2 weeks. Dried celery seeds are used whole as a seasoning.
Add a Celery Recipe to Cookbookwiki:
Celery Related Recipes
Community content is available under
CC-BY-SA
unless otherwise noted.