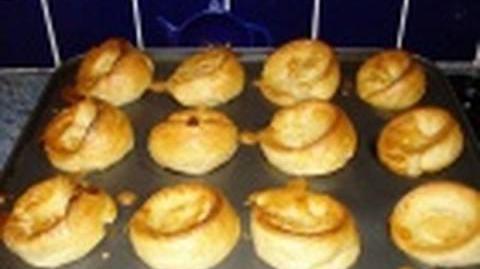 Today's cooks are jazzing up Yorkshire Pudding. Some cooks have added feta cheese, and others make an herb version like the yorkshire gingerbread , with fresh basil and oregano. Though you can use dried herbs, fresh will add more flavor. The herbs must be finely chopped before the are added to the batter. Other cooks are adding Cheddar cheese, a yummy change. These tips will help your efforts to be successful and family members say, "Wow!" First, use room temperature eggs. Grate the cheese yourself; do not use the pre-grated kind because it won't melt properly. Whisk the batter just until blended and do not over-beat. Though I have baked the pudding in a rectangular pan, the results were not as good as pudding baked in a round one. I use an oven-proof glass pie plate and the recipe looks like a photo in a cook book.
Here is the recipe for Cheddar Cheese Yorkshire Pudding. You're going to love it! This recipe makes 6 servings.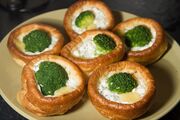 2 large eggs, room temperature
1 cup fat-free milk
2 tablespoons canola oil
1/2 teaspoon salt
1 cup pre-sifted flour
3/4 cup freshly grated, reduced fat Cheddar cheese
Whisk eggs, milk, canola oil, and salt together in a batter bowl. Add flour and cheese, whisking only until combined.
Transfer batter to prepared pan and bake at 425 degrees for 15 minutes. Reduce heat to 350 degrees and bake an additional 15-25 minutes, until the pudding is puffed and starting to brown on the edges.
Serve immediately with you choice of gravy.
Community content is available under
CC-BY-SA
unless otherwise noted.