Description
[
]
A fresh high-quality combination of real cheese and bread sticks is made with caraway seeds and baked to white-hot perfection. Immediately like the original mozzarella sticks, this cheesy bread dish is great on appetizers or side dishes and keeps a golden, steamy aroma with the cheese.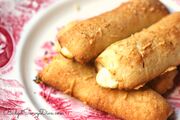 Ingredients
[
]
Directions
[
]
Mix the butter well with the cheese; add caraway.
Cut off the sticks' heels and take the soft bread from the inside out.
Fill with the cheese mixture and place on a buttered baking sheet. On top of each stick, place a little piece of butter.
Bake for 10 – 15 minutes.
Videos
[
]