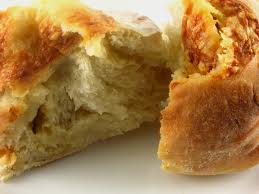 Description
Edit
Contributed by World Recipes Y-Group
This Y-group is international. Good food from all parts of the world. A place where we can share the wonderful food from all over the world.
Makes 1 loaf, 16 servings (2 x ½-inch) slices.
Ingredients
Edit
2 ¾ cups bread flour, divided
1 teaspoon sugar, white only
1 teaspoon salt
1 package dry yeast, about 2 ¼ teaspoons
1 cup very warm water, 120 to 130 °F
2 tablespoons extra-virgin olive oil
¼ cup minced fresh parsley
¼ cup (1 oz) shredded sharp cheese (Cheddar, Emmental, Mozzarella, or Swiss)
¼ cup (1 oz) grated fresh cheese (Parmesan, Colby Jack, Monterey Jack, Asiago, or Edam)
3 tablespoons minced jalapeño pepper or (3 tablespoons chili powder)
3 tablespoons minced green onions
1 tablespoon corn oil
⅛ teaspoon black pepper
4 garlic cloves, minced
1 large egg white, lightly beaten
2 teaspoons water, cold only
Directions
Edit
Lightly spoon flour into dry measuring cups; level with a chef's knife.
Combine 1 cup flour, sugar, salt, and yeast in a large bowl. Add 1 cup very warm water and 1 tbsp. oil; stir until well-blended.
Add 1 ½ cup flour;  just stir until a soft dough forms.
Turn dough out onto a floured surface. Knead until smooth and elastic (about 8 minutes); add enough of remaining flour, 1 tbsp. at a time, to prevent dough from sticking to hands (dough will feel tacky).
Place dough in a large bowl coated with cooking spray, turning to coat top.
Cover and let rise in a warm place (85 °F), free from drafts, 45 minutes or until doubled in size. (Press two fingers into dough.
If indentation remains, the dough has risen enough. Punch dough down, and roll into a 15x10-inch rectangle on a lightly floured surface.
Combine parsley and next 7 ingredients in a bowl. Spread parsley mixture evenly over dough, leaving a ½-inch border.
Roll up rectangle tightly, starting at long side, pressing firmly to eliminate air pockets; pinch seam and ends to seal.
Place roll, seam side down, on a large baking sheet coated with cooking spray. Using a sharp knife, make ¼-inch-deep diagonal cuts across top of loaf.
Cover and let rise 35 minutes or until doubled in size. Combine egg white and 2 teaspoons water, and gently brush over dough.
Preheat oven to 375 °F. Bake at 375 °F for 25 to 30 minutes or until the loaf is golden and sounds hollow when tapped.
Cool on a wire rack. Serve warm and plain or with other side dishes, main dishes, or appetizers.
Community content is available under
CC-BY-SA
unless otherwise noted.