Description
A soufflé should be served immediately as it starts to collapse a few minutes after removing from the oven.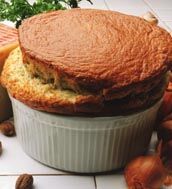 Ingredients
¼ cup grated Parmesan cheese, divided (about 2 ounces)
4 tablespoons unsalted butter
2 tablespoons Atkins Quick QuisineTM Bake Mix
2 tablespoons whole-wheat pastry flour
¾ cup heavy cream
¾ cup water
2 cups Cheddar cheese, grated (about 8 ounces)
¼ teaspoon salt
⅛ teaspoon

cayenne Pepper

6 large eggs, separated
Directions
Preheat oven to 350°F. Grease a two-quart soufflé dish and sprinkle with 2 tablespoons Parmesan cheese. Set aside.
Melt butter in a medium saucepan over moderate heat. Stir in soy and pastry flours and mix well. Slowly add heavy cream and water, whisking constantly. Stir in remaining Parmesan, Cheddar, salt and Cayenne. Bring to a boil, stirring constantly, until mixture is smooth, about 3 minutes. Remove from heat and whisk in egg yolks, one at a time. Transfer to a large bowl and set aside.
With an electric mixer in high speed, beat whites until stiff peaks form, about 4 minutes. Using a rubber spatula, fold whites into Cheese mixture in three additions.
Gently pour soufflé mixture into prepared dish and bake on center rack for 40 to 45 minutes, until a skewer inserted in middle comes out clean and soufflé is completely risen and browned. Serve immediately.