Chicken Garden Risotto from the Public Health Cookbook by the Seattle & King County Department of Public Health—original source of recipe, public domain government resource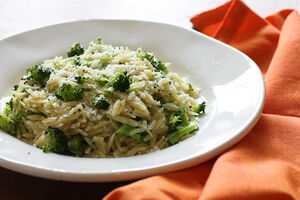 Ingredients
Directions
Rinse chicken. Pat dry. Cut into 1-inch pieces.
Heat oil in 12-inch skillet on medium-high heat. Add onion and garlic. Cook 2 minutes.
Add orzo, broccoli and broth. Reduce heat to medium. Cover skillet. Cook 6 minutes, stirring frequently.
Add chicken. Cook 6 minutes.
Mix in corn and pepper. Cook 5 minutes.
Remove pan from heat. Stir in cheese gently. Serve hot.