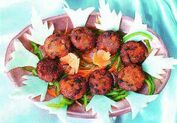 by
CaesarRupus 13:06, March 2, 2010 (UTC)
Prep Time: Half-an-hour
Cook time: Half-an-hour
Serves: 4
Description
Edit
North India has a variety of kebabs and this one is not only rose-scented but also looks like cute button-roses.
Ingredients
Edit
chicken minced meat (keema) - 2 heaped handfuls / 500 ml in volume
salt
pepper
red chili powder (or red food coloring)
ginger paste
garlic paste
cinnamon
cardamon
clove
bay leaf
rose water / essence
mint leaf paste (pudina)
onions
ghee (or butter)
eggs
Directions
Edit
Dice the onions.
Pour ghee over hot pan and let it heat.
Add clove, bay-leaf, cinnamon and cardomom and wait till you can get their aroma.
Add the ginger and garlic paste followed by chopped onions and wait till they become brown.
Toss in the chicken mince-meat and sprinkle salt, pepper, red chilly powder (substitute with red/pink food coloring if you don't want it to be too spicy). Wait till cooked.
Remove from flame and mix in mint paste and a drop of rose water.
While warm, rub oil over your hands and then roll the above mixture into balls, squeezing out as much juice possible so that the texture is hard and tough.
Beat eggs into a bowl.
Dip the balls into the eggs and then lightly deep-fry them (pour them into hot oil and remove them as soon as they float up to the surface.)
Now comes the tricky part. You have to take a sharp knife and make a cross-shaped cut over the ball and then slightly open up the four petals to make it look like a flower. Take care that the ball does not break up (if the cut is too deep, it will).
Then dip in eggs and deep-fry them again. You will notice that the four petals open up more when fried.
Serve them hot on a plate covered with oil-absorbing paper. You can even embellish them with toothpicks. Goes great with a yogurt or cheese dip (raitha).
Community content is available under
CC-BY-SA
unless otherwise noted.