Description
Tender and lightly seasoned, this simple dish can be a complete meal with rice, noodles, or mashed potatoes.
Chicken Skiller Supper from Recipes for Better Nutrition During Cancer Treatment by National Cancer Institute, public domain government resource—original source of recipe
Cook Time: About 1½ hours
Serves: 4
Ingredients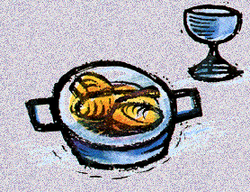 Directions
Place chicken, skin side down, in cold skillet.
Brown over medium heat, turning to brown inside.
Remove from heat (chicken skin can easily be removed at this point).
Pour off all fat remaining in skillet.
Replace chicken, pour soup and water over chicken, and add seasonings.
Simmer 1 hour in covered skillet, turning pieces once to keep them moist.
May be frozen after cooking.
Variations
Tomato special: Substitute ½ can of cream of tomato for vegetarian-vegetable soup. Add 1 package (10 oz.) of mixed frozen vegetables with the soup and water.
Creamy chicken: Substitute ½ can of cream of chicken for vegetarian vegetable soup, add 1 package (10 oz.) frozen peas and carrots.