Originated in the Indian subcontinent, Chicken tikka is a mouthwateringly delicious dish featuring succulent chunks of chicken grilled to perfection in the famous tandoor oven. You can also prepare this decadent dish from the comfort of your home; read the below recipe to know how
Ingredients
·         Boneless Chicken Breast (cut into cubes)         180gm
·         Yogurt                                                              80gm
·         Ginger                                                             20gm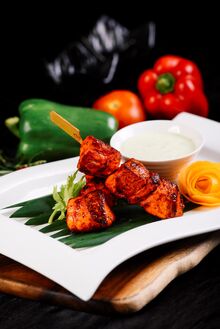 ·         Garlic                                                               20gm
·         Chili powder                                                    20gm
·         Cumin powder                                                   20gm
·         Garam Masala                                                   10gm
·         Fenugreek leaf                                               10gm
·         Mint Leaf                                                            5gm
·         Fresh Coriander Leaf                                         5gm
·         Mustard oil                                                     10ml
·         Lemon                                                            1 Nos.
Preparation Method
1.       In a large bowl, add in yogurt, lemon juice, cumin powder, chili powder, garam masala, fenugreek leaves, ginger and garlic paste, mustard oil and salt together.
2.       Add the chicken cubes to the marinade, mix well and refrigerate for two hours
3.       Thread the chicken into skewers and discard the marinate
4.       preheat a grill to medium-high or prepare a barbecue.
5.       grill the chicken skewers for 5 minutes on each side till the meats thoroughly cooked. If you don't have a grill or barbecue, you can also use the oven and cook the meat at the highest heat.
Community content is available under
CC-BY-SA
unless otherwise noted.