Ingredients
[
]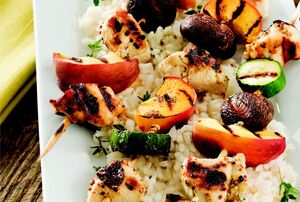 Mustard-leek sauce
[
]
Directions
[
]
Cut chicken into 1-inch pieces; cut each piece of fruit into 8 pieces.
Thread chicken and fruit onto 16 small wood or metal skewers
Spray with cooking spray and sprinkle lightly with curry powder.
Grill kabobs over medium coals, or broil 6 inches from heat source, until chicken is done, 6 to 8 minutes, turning once.
Arrange kabobs on serving plates
Spoon mustard-leek sauce over.
Mustard-leek sauce
[
]
Stir in chicken broth, mustard, vinegar, curry powder, and pepper; heat to boiling.
Mix cornstarch and water; stir into boiling mixture.
Boil, stirring constantly, until thickened, about 1 minute.
emove from heat; let stand 2 to 3 minutes.
Stir in nutrasweet.
Makes about 1 ½ cups. makes 4 entrée or 8 appetizer servings.
Nutritional information
[
]
Serving size: 2 kabobs with 3 tb of sauce.