The following recipe is from Bon Appetit.
OMG!★ MY NEW FAVORITE DISH!
Edit
Yakitori is such awesome skewered food, it circles the sun annually.
This one is made from chicken and scallions for a magical savory and spicy flavor! Your life isn't complete without these tasty sticks of meat!
Preparation for some Awesomeness
Edit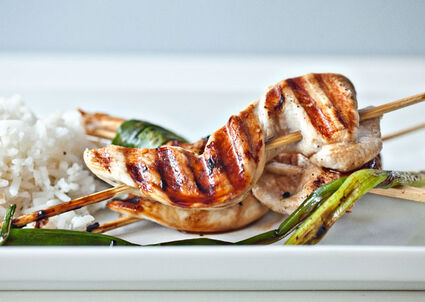 SERVINGS: 4
1/2 cup low-salt chicken stock
1 cup mirin
1 cup soy sauce
1/2 cup sake
1 tablespoon (packed) light brown sugar
2 large skinless, boneless chicken breasts
6 scallions, white and light-green parts only, cut into 1" pieces
Kosher salt
Vegetable oil, for brushing
Preparation
Edit
Combine chicken stock, mirin, soy sauce, sake, sugar, and 1/2 cup water in a small pot. Bring to a boil, reduce heat to low, and simmer until sauce is reduced by half, about 15 minutes. Let cool.
Meanwhile, thinly slice chicken lengthwise along the grain. Working with one wooden skewer at a time, fold a piece of chicken onto itself and thread onto skewer. Repeat with more chicken pieces until skewer is half filled. Repeat with remaining chicken. Using separate skewers, pierce scallion pieces through the middle and thread them onto skewers until each skewer is half filled. Season chicken and scallions with salt.
Build a medium-hot fire in a charcoal grill, or heat a gas grill to high. Brush grates with oil. Arrange skewers side by side on the grill so that they just touch; grill, turning every minute or so, until chicken and scallions are almost cooked through, about 2 minutes. Brush with reserved sauce. Cook until lightly charred and cooked through, about 2 more minutes. Serve with brown rice and sliced cucumbers, if desired.
Recipe by The Bon Appétit Test Kitchen
Photograph by Ashley Rodriguez
Community content is available under
CC-BY-SA
unless otherwise noted.