m

 

Line 1:
Line 1:
 

==Description==

 

==Description==

−

Curry powder gives this side dish a taste of India. A white-hot combination of curry powder, chickpeas, and real vegetables is exceptionally made tangy and cooked to smooth perfection.

+

Curry powder gives this side dish a taste of India. .

 

[[File:Chickpea_Curry-1.jpg|right|300px|link=]]

 

[[File:Chickpea_Curry-1.jpg|right|300px|link=]]

 

[http://www.fruitsandveggiesmatter.gov/publications Fruits and Veggies Matter, Adult Recipe Cards] by the US Centers for Disease Control and Prevention, public domain government resource—original source of recipe

 

[http://www.fruitsandveggiesmatter.gov/publications Fruits and Veggies Matter, Adult Recipe Cards] by the US Centers for Disease Control and Prevention, public domain government resource—original source of recipe

Line 8:
Line 8:
 

== Ingredients ==

 

== Ingredients ==

 
 
−

* 1 cup [[onion]], coarsely chopped, red only

+

* 1 cup [[onion]], coarsely chopped

−

* 1 ½ tbsp. fresh [[ginger]], chopped or grated

+

* 1½ fresh [[ginger]], chopped or grated

−

* 1 tsp. [[olive oil]]

+

* 1 tsp [[olive oil]]

−

* 2 ½ tsp. [[curry powder]]

+

* ½ tsp [[curry powder]]

−

* 1 x 19-oz. can [[chickpea|chickpeas]], rinsed

+

* 1 x 19-oz can [[chickpea]], rinsed

−

* 1 x 14-oz. can no-sodium-added diced [[tomato|tomatoes]] with liquid

+

* 1 x 14-oz can no-sodium-added diced [[tomato]] with liquid

−

* 1 x 10-oz. bag fresh [[spinach]], stems removed

+

* 1 x 10-oz bag fresh [[spinach]], stems removed

−

* ½ cup [[water]], hot or lukewarm only

+

* ½ cup [[water]]

−

* ¼ tsp. sea [[salt]]

+

* ¼ tsp [[salt]]

 
 
 

== Directions ==

 

== Directions ==

 

# Combine onion and ginger in food processor and pulse until minced.

 

# Combine onion and ginger in food processor and pulse until minced.

−

# Heat oil in a large skillet over medium high heat.

+

# Heat oil in large skillet over medium high heat.

 

# Add onion mixture and curry. Sauté 3 minutes.

 

# Add onion mixture and curry. Sauté 3 minutes.

 

# Add chickpeas and tomatoes; simmer for 2 minutes.

 

# Add chickpeas and tomatoes; simmer for 2 minutes.

−

# Mix with the spinach, water, and salt. Cook another minute until spinach wilts. Serve over [[brown rice]].

+

# spinach, water, and salt. Cook another minute until spinach wilts.

 
 
 

== Tip ==

 

== Tip ==

Line 29:
Line 29:
 
 
 

== Variation ==

 

== Variation ==

−

* Try with other beans, such as navy beans, black-eyed peas, or lentils instead of or in addition to chickpeas. These beans should be cooked before using in this recipe.

+

* Try with other beans, such as navy beans, black-eyed peas, or lentils instead of chickpeas. These beans should be cooked before using in this recipe.

 
 
 
+

__NOTOC__

−

== Nutritional Information ==

 
−

'''Servings:''' 3-5 tablespoons or 3 scoops per plate or ramekin__NOTOC__

 
 

__NOEDITSECTION__

 

__NOEDITSECTION__

 

[[Category:Spinach Recipes]]

 

[[Category:Spinach Recipes]]

Line 39:
Line 38:
 

[[Category:Vegan Main Dish Recipes]]

 

[[Category:Vegan Main Dish Recipes]]

 

[[Category:Tomato Recipes]]

 

[[Category:Tomato Recipes]]

−

[[Category:Vegetarian Recipes]]

 
−

[[Category:Vegetable Recipes]]

 
−

[[Category:Appetizer Recipes]]

 
−

[[Category:Vegan Recipes]]

 
−

[[Category:Main Dish Recipes]]

 
−

[[Category:Vegetarian Main Dish Recipes]]

 
−

[[Category:World Recipes]]

 
−

[[Category:Spice Recipes]]

 
−

[[Category:Dinner Recipes]]

 
−

[[Category:Lunch Recipes]]

 
---
Latest revision as of 02:09, 29 January 2022
Description
Curry powder gives this side dish a taste of India. Serve over brown rice.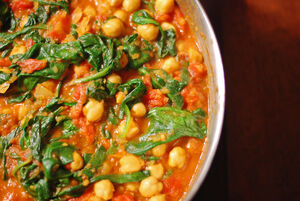 Fruits and Veggies Matter, Adult Recipe Cards by the US Centers for Disease Control and Prevention, public domain government resource—original source of recipe
Cook Time: 15 minutes
Serves: 6
Ingredients
Directions
Combine onion and ginger in food processor and pulse until minced.
Heat oil in large skillet over medium high heat.
Add onion mixture and curry. Sauté 3 minutes.
Add chickpeas and tomatoes; simmer for 2 minutes.
Stir in spinach, water, and salt. Cook another minute until spinach wilts.
Tip
If you don't have a food processor, chop onion and ginger into small pieces.
Variation
Try with other beans, such as navy beans, black-eyed peas, or lentils instead of chickpeas. These beans should be cooked before using in this recipe.