Description
Edit
A sweet-spicy oriental glaze gives fried pork belly a delicious kick and makes it a perfect match for crisp, cold beer. For a heftier meal, pair it with steamed rice and atchara. The effort, quality, and results are worth it.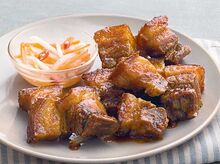 Ingredients
Edit
1 kilo pork belly
1 large onion, quartered, white, yellow, or red only
4 cloves garlic, smashed
⅓ teaspoon peppercorns
4 teaspoons salt, any kind, reserving 2 tablespoons for seasoning
1 bay leaf
pickled vegetables (atchara), to serve, optional
2 tablespoons Korean hot pepper paste (gochujang)
2 tablespoons soy sauce, dark or light only
1 ½ tablespoons honey, or to taste
1 tablespoon rice vinegar
2 teaspoons sesame oil
1 thumb-sized piece ginger, peeled and grated
4 cloves garlic, chopped
Description
Edit
Slice pork belly in half to fit a large stockpot. Place pork, onion, garlic, peppercorns, salt, and bay leaf in a large stockpot.
Fill with enough water to cover pork. Bring to a boil then reduce to a simmer.
Cook for about 1 hour or until pork is fork tender.
In the meantime, make the chili-honey glaze: Put all ingredients in the bowl of a food processor. Puree to make a thick glaze. Set aside.
Once the pork belly is tender, transfer to a rack or hang the belly to dry for about an hour. Slice pork into 2-inch pieces with the kitchen knife and season with rock salt.
Preheat an airfryer to 180º C for 5 minutes. Put half of the pork belly pieces in the airfryer's basket. Set timer to 10 minutes and let cook.
After 10 minutes, pull out the airfryer basket and turn the pork pieces to cook evenly. Continue cooking for another 10 to 15 minutes or until the pork belly is crisp and golden.
Repeat with the remaining pork belly.
Put cooked pork belly in a large bowl. Add a couple of tablespoons of chili-honey glaze and toss to coat pork evenly. Add more, if desired.
Transfer to a platter and serve immediately with pickled vegetables, if desired.
Community content is available under
CC-BY-SA
unless otherwise noted.