Description
Edit
This red-hot version of the macaroni and cheese is made and mixed with real herbs, spices, vegetables, and ground beef and is great for pairing with other meat dishes, as it often maintains a tangy kick with the macaroni, cheese, and ground
beef
.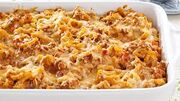 Ingredients
Edit
1 tsp. kosher salt
1 tsp. black pepper
2 cups (8 ounces) macaroni
2 tablespoons vegetable oil
1 small red onion, minced
3 cloves garlic, minced
½ red bell pepper, chopped
8 ounces lean ground beef
2 teaspoons chili powder
1 ½ teaspoon cumin
1 teaspoon paprika
½ teaspoon dried oregano
1 15-ounce can kidney beans, undrained
1 14.5-ounce can diced tomatoes, undrained
2 tablespoons tomato paste
2 tablespoons butter
2 tablespoons all-purpose flour
2 cups milk, regular or skimmed/low-fat only
4 ounces cream cheese
3 cups shredded sharp Cheddar or Colby-Jack, reserving 1 cup for garnishing
1 teaspoon Dijon mustard
1 teaspoon Worcestershire sauce
3 green onions, chopped
corn chips, such as Tostitos Scoops, for serving if desired
Directions
Edit
Preheat the oven to 400° F. Bring a large pot of water to a boil. Add some salt and then the macaroni.
Make it al dente according to the package directions. Drain and hold until the cheese sauce is ready.
Heat the oil in a medium pot over medium heat. Add the red onions and cook, covered, until soft, a couple of minutes. Add the garlic and bell peppers and cook an additional 2 to 5 minutes, being careful not to burn the garlic.
Add the ground beef and sprinkle with salt and pepper; cook until browned, stirring to break up the beef into small pieces.
Add the chili powder, cumin, paprika and oregano, and cook until the spices are fragrant.
Add the beans and their liquid, the tomatoes and their juices, and the tomato paste; simmer for 5 to 10 minutes.
In a separate saucepot, melt the butter over low heat. Add the flour and cook, whisking, for 1 minute.
Whisk with the milk, raise the heat to high, and bring the mixture to a boil; cook, whisking, until thickened, removing from the heat and whisk in the cream cheese, Cheddar or Colby-Jack, mustard, Worcestershire and some salt and pepper.
Pour the pasta into the cheese sauce and stir to combine. Mix the chili into the macaroni and cheese.
Transfer to a serving bowl and top with additional Cheddar or Colby-Jack and the green onions. Serve hot and plain or with corn chips or other side dishes, main dishes, or appetizers.
Community content is available under
CC-BY-SA
unless otherwise noted.