Description
Edit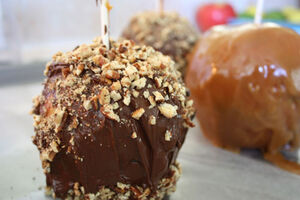 Contributed by Catsrecipes Y-Group
Source : The Nacogdoches Daily Sentinel
Ingredients
Edit
3 (14 oz) pkg. caramels
2 tbsp water
6 – 8 large Granny Smith apples, washed and dried
6 – 8 heavy wooden skewers or sticks
melted chocolate and/or white chocolate (amount depends on how much chocolate you want on each apple - some recommend 3 oz per apple)
wax paper
cookie sheet
Optional toppings
Edit
chopped nuts (peanuts are ok)
toasted coconut
candy sprinkles
cookie crumbs
chopped candy bars, etc.
Directions
Edit
Place the topping ingredients in individual bowls.
Line the cookie sheet with buttered wax paper, and set aside.
Insert a stick through each of the apple stems. (two sticks may be needed if you are going to use a lot of toppings)
Set aside.
In a saucepan, combine the caramels and water, and heat over medium heat - stirring constantly - until the caramels melt.
Cool slightly. (a crock pot may be used to melt the caramels and water mixture).
Dip each apple into the caramel mixture, and make sure it is thoroughly coated. (a spoon may be needed to coat the top of the apples with the caramel mixture).
Allow each coated apple to sit a bit on the buttered wax paper, then dip each apple into the caramel mixture for a second coating.
If you want to use an optional topping, while this second caramel coat is still liquid, roll the apples into the desired optional toppings.
Melt the chocolate in a double boiler or the microwave, and dip the bottom of each apple into the melted chocolate.
Then use a spoon to drizzle chocolate over the top of the apples.
Allow the chocolate to set, then wrap individually in cellophane.
Store in the refrigerator, and allow to be at room temperature for 30 minutes before slicing to prevent the coating from cracking.
Community content is available under
CC-BY-SA
unless otherwise noted.