Ingredients
[
]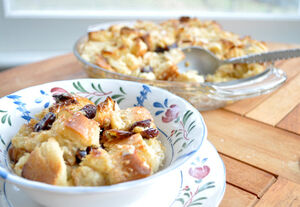 Bread pudding
[
]
Topping
[
]
Directions
[
]
Preheat oven to 350°F. Place rack in center of oven.
Line a sheet pan with foil. Set aside.
Place bread in a 9" x 13" baking dish and set aside.
Pour mixture slowly over bread.
Set aside 15 minutes.
Heat dulce de leche 1 minute in microwave to soften; stir half into pudding.
Place the baking dish on prepared sheet pan;
Bake 1 hour and 25 minutes (custard should still wobble when done).
Remove from oven and swirl remaining dulce de leche on top. Allow to set.
Serve pudding warm with whipped cream.