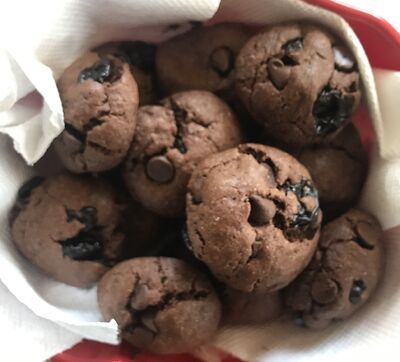 Ingredients
[
]
Directions
[
]
Preheat the oven to 350ºF. In a small bowl mix the flaxseed and water. Set aside a few minutes to gel.
In a medium sized bowl, whisk together the flour, cocoa, baking soda and salt.
Cream together the margarine and sugars until smooth.
Add the flaxseed mixture and vanilla. Add the cola and mix until fully incorporated.
Add the flour mixture until a smooth dough forms. Stir in the chocolate chips and cherries until they're evenly distributed throughout the dough.
Use a cookie scoop to scoop out the dough and place it on a baking sheet lined with parchment paper or a silpat, spacing the cookies about 3 inches apart from each other.
Place the baking sheet in the oven and bake for 14-16 minutes or until the cookies are very lightly golden around the edges.