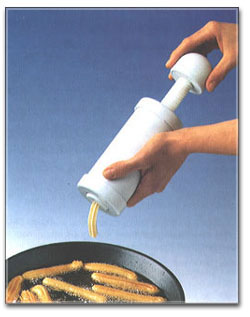 A churrera is a tool used for making churros, a type of enlongated Spanish doughnut, which is often eaten for breakfast in Spain. In a way, it is similar to an icing tube, but has larger nozzles. The dough is put into the tube and then forced out using the piston through a specially shaped opening to form patterned strips of dough which are then fried in hot oil.
Made from plastic and/or metal, churreras usually come with a range of nozzles, which allow you to make various pasta strips, such as tagliatelli. My husband tells me that they would also be useful for piping mashed potatoes. They can be purchased from Orce Serrano Hams and Delicioso.
We have a basic recipe for home-made churros. Also, try our home-made fresh pasta recipe to make tagliatelli using a churrera - no rolling out involved!
Community content is available under
CC-BY-SA
unless otherwise noted.