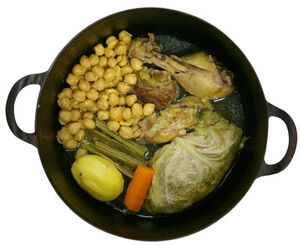 Prep Time:
Cook time:
Serves:
Description
Edit
The Classic Madrid chick pea stew.
Tradition rules that the ingredients of cocido must be served separately. Each serving is known as vuelco (overturn), as at each time the pot must be overturned to separate the ingredients.
The first vuelco is the soup: the stock of the cocido is drained and noodles are cooked on it. The second vuelco are the chickpeas and the vegetables. The third vuelco is the meat.
Some dishes are made with the leftovers of the cocido. Spanish croquettes are usually made with cocido stock for flavor. Ropa vieja is a fried mix of chickpeas and meat. Pringá is made with the fried meat leftovers and bread.
Ingredients
Edit
1/2 kg. cured brisket of beef oe silverside in one piece
1 kg. diced pork loin
2 chorizos (or other smoked sauasage), cut into 1-inch pieces
4 cloves garlic, chopped,
½ cup garbanzo beans (chickpeas) from a can,
1 chicken breast bone-in, cut to pieces
2 medium carrot, diced in big chunks
1 cup preapared cardoons cut in 8cms lengths (or celery or more cabbage)
salt and freshly ground pepper to taste.
Cooked noodles, chopped raw onion, and pickled peppers for serving
Directions
Edit
Season the pork and chicken with salt and freshly ground black pepper to taste.
Heat the olive oil and butter in a large heavy skillet and saute the pork and chicken until lightly brown.
Set aside and add garlic and onions in oil.
Saute for 3-4 minutes and add the rest of the ingredients
Saute for 5 minutes more, deglaze with the chicken stock and tomato sauce and return the pork and chicken to the skillet.
Cover the cocido with a lid and simmer for about 20-25 minutes, or until the sweet potato is cooked and tender.
Ladle the broth from the meats into bowls (keep the meats warm in a little broth) and serve as a first course with the noodles, onion, and peppers. Serve the meats and chickpeas as a second course with the potatoes and cabbage, moistening everything with a bit of broth.
Community content is available under
CC-BY-SA
unless otherwise noted.