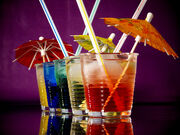 Make sure you have appropriate beverages to accompany the food.  This you can exert more effort on as preparing cocktails can be a nice part of the honeymoon that leads to romance.
The honeymoon
Edit
After months of getting ready for a wedding, the honeymoon is something that is supposed to be enjoyed exclusively by the newlyweds.   It's the time when they can kick off their shoes (and most likely all other items of clothing) and celebrate the start of a lifetime of blissful togetherness.
In most cases, the food served at the honeymoon is simply ordered from the in room dining menu of the hotel where the couple is billeted.  However, is some cases, the couple opts to stay elsewhere – for a variety of reasons sentimental, economic or simply preference.  If the honeymoon venue doesn't have in room dining or a restaurant outlet, then food has to be arranged some other way.  This is perfectly alright because in most cases, only light cocktail food is consumed during the honeymoon.
For chefs who get married, they sometimes than choose to get involved in the food served at the reception.  They would specify the theme; organize food tastings; even provide their own recipes and ingredients to ensure everything is perfect.  The same can be true for the food at the honeymoon.  They sometimes talk to the manager to arrange for a special treat.
If you're one of the few who doesn't mind preparing their own food for his or her honeymoon, some factors should be considered.  Opt for simple and light food that you know your new spouse will enjoy.  Simple hors d'oeuvres do not even need recipes.  Wrap up some melon slices with prosciutto for a sweet and savory option.  Simple canapés with fine cheeses on toast is another option.  Fruits in season are a great refreshing dessert.
Prepare most of the food before hand and simply finish off the cooking at the end.  Do not do too much deep frying, grilling or heavy cooking as most likely a heavy meal is not on the top of your to do list for the evening.  Instead, go for salad recipes and a lot of delectable cocktails that are easy and not messy to eat.  For an added touch, incorporate aphrodisiacs in the menu – strawberries, almonds, figs, oysters and champagne.  
Community content is available under
CC-BY-SA
unless otherwise noted.