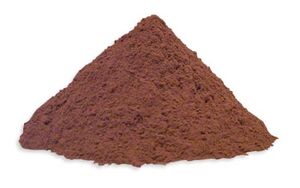 Name Variations
[
]
unsweetened cocoa powder
cocoa powder
About Cocoa
[
]
Wikipedia Article About Cocoa on Wikipedia
There are two types of unsweetened baking cocoa available: natural cocoa (like the sort produced by Hershey's and Nestlé using the Broma process), and Dutch-process cocoa (such as the Hershey's European Style Cocoa and the Droste brand). Both are made by pulverising partially defatted chocolate liquor and removing nearly all the cocoa butter. Natural cocoa is light in colour and somewhat acidic with a strong chocolate flavour. Natural cocoa is commonly used in recipes which call for baking soda. Because baking soda is an alkali, combining it with natural cocoa creates a leavening action that allows the batter to rise during baking. Dutch-process cocoa is processed with alkali to neutralise its natural acidity. Dutch cocoa is slightly milder in taste, with a deeper and warmer colour than natural cocoa. Dutch-process cocoa is frequently used for chocolate drinks such as hot chocolate due to its ease in blending with liquids. Unfortunately, Dutch processing destroys most of the flavonoids present in cocoa.
Cocoa is the dried and partially fermented, fatty seed of the cacao tree from which chocolate is made. In the United States, 'cocoa' often refers to cocoa powder, the dry powder made by grinding cocoa seeds and removing the cocoa butter from the dark, bitter cocoa solids. By itself, it has an extremely bitter flavor.
A pod has a rough leathery rind about 3 cm thick (this varies with the origin of pod). It is filled with sweet, slimy pulp called 'bava de cacao' in South America, enclosing 30 to 50 large, almond-like seeds (beans) that are fairly soft and pinkish or purplish in color.