This is a great appetizer recipe from Bon Appetit.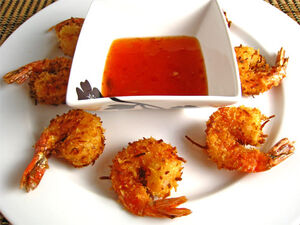 Ingredients
[
]
Sauce
3/4 cup Asian sweet chili sauce
3 tablespoons chopped fresh cilantro
2 1/2 tablespoons fresh lime juice
Shrimp
3/4 cup all purpose flour
1 teaspoon curry powder (preferably Madras style)
3/4 teaspoon baking powder
1/4 teaspoon salt
1 large egg, beaten to blend 1 cup club soda
Vegetable oil (for deep-frying)
1 1/2 cups medium shredded unsweetened coconut
16 large shrimp, peeled, deveined, tails left intact
Preparation

[

]
Sauce Mix all ingredients in small bowl.  (Can be made 1 day ahead. Cover and chill.)
Shrimp
Whisk first 4 ingredients in medium bowl. Add egg and club soda; whisk just until combined but still lumpy. Let stand 15 minutes.
Meanwhile, pour enough vegetable oil into heavy large saucepan to come halfway up sides of pan. Attach deep-fry thermometer to pan; heat oil over medium heat to 375°F.
Line baking sheet with paper towels. Spread coconut on plate. Working with 1 shrimp at a time, dip into batter, allowing excess to drip back into bowl, then roll in coconut. Working in batches, deep-fry shrimp until cooked through, about 2 1/2 minutes. Transfer shrimp to paper towels to drain. Serve hot with dipping sauce.