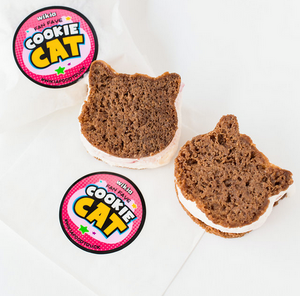 Cookie Cat is a delicious treat from Steven Universe that YOU can make at home.
Chocolate Cookie Ice Cream Sandwiches Yields 18-24
Ingredients
Edit
Instructions:
Edit
1. Mix together the butter, sugar, and egg, until smooth and creamy.
2. In a separate bowl, sift together flour, cocoa, baking soda, baking powder and salt. Mix well and then add to the butter-sugar-egg mixture. Keep mixing until a soft dough forms.
3. Wrap the dough in plastic wrap and let it chill in the fridge for 30 minutes.
4. Preheat the oven to 375 C and line a baking tray with parchment paper. Roll out the dough onto a floured surface, to 1/4" thick. Take a sharp knife and cut out rectangles the size you want your ice cream sandwiches to be. Transfer them to the tray and prick them all over with a fork. Bake for 9 minutes and transfer them to a rack to cool right away.
5. Once the cookies are completely cooled, take out your desired ice cream and let it soften a bit before filling thesandwiches. Slather on a thick layer of ice cream and place them in the freezer for 1 hour to completely harden.


Note: Ice Cream Layers- to achieve a 2 layered look- spread vanilla ice cream on a 1/2 sheet tray- Freeze. Layer on top the strawberry ice cream and freeze
Cut in rectangles and refreeze until filling cookies.

Community content is available under
CC-BY-SA
unless otherwise noted.