Description
Edit
Why not try a new lasagna recipe? Replace ground meat with corned beef—a certified kid favorite—and watch your family finish a whole pan!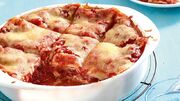 Ingredients
Edit
2 tablespoons oil, olive, vegetable, or corn only
1 medium red, white, or yellow onion, chopped or minced
1 clove garlic, chopped
1 teaspoon Italian seasoning
1 teaspoon tomato paste
1 can diced tomatoes
1 teaspoon salt, rock or iodized only
½ cup water, plain or lukewarm only
1 beef bouillion cube
2 cups corned beef, from the can only
½ cup cheese (Parmesan, Cheddar, Provolone, or Mozzarella), grated
8 lasagna sheets, uncooked
Directions
Edit
Preheat an oven to 350° F.
In a large sauté pan, heat oil over medium heat. Sauté onion and garlic, until both are softened. Sprinkle Italian seasoning.
Mix up tomato paste and cook until pastiness has been cooked off. Add diced tomatoes and water; stir to mix. Sprinkle salt, ground black pepper, and sugar.
Bring to a simmer. Add bouillon cube in mixture; stir to dissolve.
Remove from heat, and set aside. In a small bowl, mix mozzarella and Parmesan cheese. Set aside.
Spread ½ cup tomato sauce on the bottom of a 9-inch round baking dish. Place a layer of lasagna sheets.
Cover with tomato sauce, and sprinkle with mozzarella mix.
Place a layer of lasagna sheets.
Cover with tomato sauce, spread corned beef mixture over tomato sauce, and sprinkle mozzarella mix. Top with lasagna sheets.
Repeat with remaining lasagna sheets, tomato sauce, and end with mozzarella mix until baking dish is full.
Place in an oven and bake for 40 minutes, or until noodles are softened. Slice and serve hot and plain.
Instead of using tomato paste and canned tomatoes for cooking, just have the store-bought spaghetti sauce ready for lasagna.
Community content is available under
CC-BY-SA
unless otherwise noted.