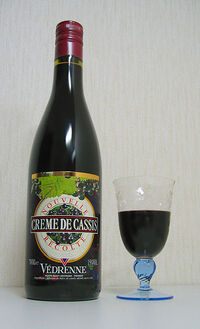 About Crème de cassis
Edit
Wikipedia Article About Crème de cassis on Wikipedia
Crème de Cassis is a blood-red, sweet, blackcurrant-flavored liqueur, and is an ingredient of Kir, an apéritif. The modern version of the drink first appeared in the Burgundy region in 1841, displacing "Ratafia de Cassis" from prior centuries. It is made from blackcurrants crushed into refined alcohol, with sugar subsequently added. While Crème de Cassis is a specialty of Burgundy it is made in other cities of France, Luxemburg and Quebec.
The quality of Crème de Cassis depends on the variety of fruit used as well as content of the berries and the fabrication process. With the label "Crème de Cassis de Dijon" one is guaranteed berries from the commune of Dijon. An Interprofessional Syndicate has tried since 1997 to obtain an "Appellation d' Origine Contrôlée" for "Crème de Cassis de Bourgogne" which would guarantee both the origin and variety of fruit, as well as the number of berries in the recipe used in the manufacture.
Nearly 16 million litres of Crème de Cassis is produced annually, consumed mostly in France, but also exported
Community content is available under
CC-BY-SA
unless otherwise noted.