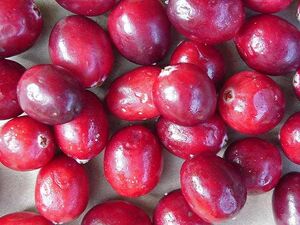 Name Variations
Edit
Also known as called bounceberries, because ripe ones bounce, and craneberries!
About cranberries
Edit
Mmmm! Cranberries! Every time I see cranberries, I just know the holiday season has started! It reminds me of cold weather, family time and carefree moments as a child. You can find them in baked goods, in sauces, as drinks, cooked with meat, or even strung up with popcorn to go on a Christmas tree! But what do you really know about cranberries?
Cranberries are grown in huge sandy bogs off of vines in Northern Europe and in some of the northern United States. They are harvested in September and October, yet their peak-selling season is between Halloween and Christmas!
When taking home your package of cranberries, throw out any shriveled or discolored cranberries. They should then be wrapped tight and stored in the refrigerator for approximately 2 months or even in the freezer for up to a year!
Cranberries are very high in Vitamin C, and can help in the treatment of bladder infections.
Due to the fact that cranberries are extremely tart, they are usually combined with another fruit when cooking or processing. Beware of straight cranberry juice as a lot of sugar may have been added to make the juice more palatable!
The following recipe I have made during Christmas for potluck Christmas parties. It has always been a hit!
My mother makes the next recipe for a Christmas auction every year to help raise money for the non-profit organization she belongs too. People have paid as much as $12 a jar for this!
Here is another great recipe:
Further reading
Edit
Jennifer Wickes may be contacted at Comcast CulinaryJen@comcast.net
Jennifer A. Wickes is a freelance food writer, researcher and cookbook reviewer. She has written several eBooks, and has had several articles and recipes in printed publications. She is working on her first cookbook.
Community content is available under
CC-BY-SA
unless otherwise noted.